Go to the Site Index
So who is Yashica Guy?
The Web Meister behind the Yashica Guy site is Joe Marcel Wolff, not to be confused with my grandson, Marcel Wolff, who was aged 11 at the time. After checking out the site from Florida when it was first posted, he asked why I was giving away all my "secrets" in the Rescue Guide.
In 1948 Joe was admitted to membership of the Royal Photographic Society, U.K. and to Active membership in the Society of Motion Picture Engineers, USA, which became the Society of Motion Picture & Television Engineers. So you can see that he has been on the scene a while. Much of the intervening years were spent as a cinematographer, and he was appointed by his peers to membership of the Qualifications Committee of the Motion Picture Cameramen's Union in New York.
With a solid background in photographic chemistry and engineering, he pioneered a number of innovations both within and outside of the industry. Among these was the concept & design of the high speed sound transfer system, for duplicating magnetic tracks on motion picture prints. This service was made available to Deluxe Film Laboratories [of Color by Deluxe fame] and DuArt Film Laboratories among others. Until this break through was developed for Magnetic Systems Corporation, transfers were thought to be feasible only at 1 to 1 ratios. For film processing, and magnetic striping applications, he designed the definitive constant tension control [US Patent #3,532,282] among other things.
For a complete change of pace, he undertook the product development engineering of a hydraulic concrete block machine [US Patent # 3.089,214].
You can readily see why when faced with the frustration of not being able to find a replacement battery for his Yashica GTN, he "hired" himself to design a battery adapter that would solve this problem once and for all.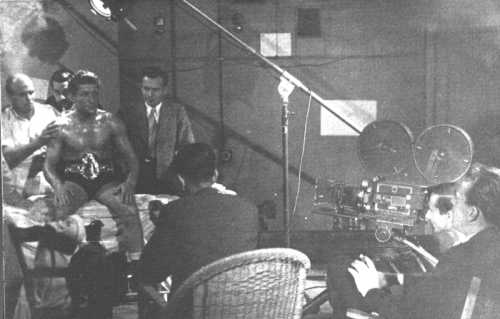 The good old days in the picture business were a lot of fun, and I used to laugh sometimes that I was actually getting paid for this. There was so much innovation required every step of the way, to get the big production look on a meager budget, at least compared to what they were spending in Hollywood per minute of final cut.
In the photo you can see me behind the Mitchell Standard camera, which as I recall was serial #100, and is probably still going strong. The subject of the shoot was British Boxing Champ Eric Boone wearing the Londsdale Belt. [ Am I giving away my age here? ] The Austrian Director Gustav Mindszenty had me in hysterics laughing, when he wasn't teaching me the finer points of the craft during the two years that we worked together.
Among my qualifications for adopting the role of Historian, are that I am a certified New York State Records Management Officer for my local district, and the author of the Award winning "Illustrated Local History" written and researched to meet a NY State mandate that local history be taught at the 4th grade level. Along the way I was a contributer to Backstage, our industry publication and a contributing photography editor of the short lived Popular Hobbies magazine.
Please check with me if I can make use of a model you may wish to donate. All the manuals assume that one simply replace the now unavailable complete assemblies, so I continue the search for practical substitutions.
I hope that you find at least some helpful information at this site, and of course comments, suggestions for inclusions or just plain criticisms are always welcome.
The address is: J M Wolff, 512 Delaware Drive, Narrowsburg, NY 12764

Thanks for stopping by. Joe

Go to the Site Index